Past Classes & Webinars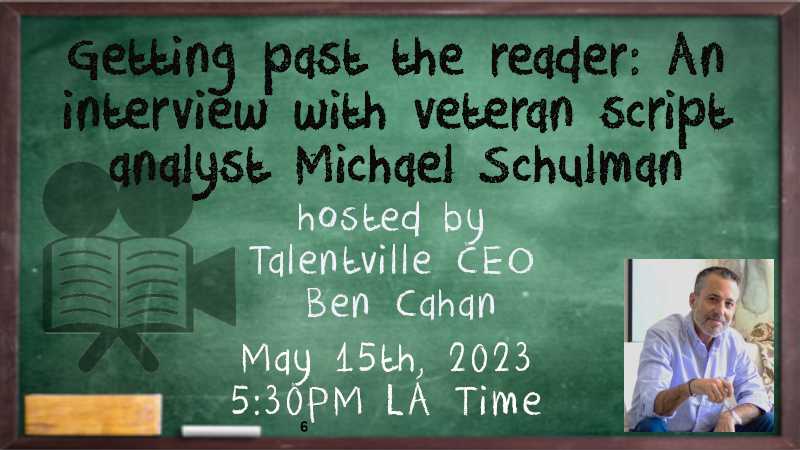 Getting past the reader: An interview with veteran script analyst Michael Schulman
Presented by Michael Schulman
Michael Schulman has over two and half decades of experience as a story analyst/screenplay consultant, having worked closely with some of the biggest names in Hollywood on a string of successful movie and television projects. As a junior agent at ICM, Michael discovered young screenwriter Danny Rubin and brokered the deal for his screenplay Groundhog Day with Harold Ramis to direct. Michael has done stints on three different studio lots as a top executive working with stars like Alec Baldwin and Dennis Quaid, and director Michael Mann for whom he oversaw creative development.

In this conversation with Talentville CEO Ben Cahan, Michael will be sharing strategies for breaking into the industry as a screenwriter; how Netflix and other streamers have changed the playing field; and will offer tips on honing your screenwriting craft to maximize your opportunities to get noticed.
From micro-budget to studio films: An interview with screenwriter & novelist Allison Burnett
Presented by Allison Burnett
Allison Burnett has been a working screenwriter for the past three decades, with credits such as Autumn in New York, Fame, Untraceable, and Underworld: Awakening. He has also published seven novels (Undiscovered Gyrl is my favorite), two of which became independent films -- Ask Me Anything and Another Girl -- which he both adapted and directed.

In this 45-minute chat with Talentville CEO Ben Cahan, Allison will share stories of how he broke into the business and offer advice on what it takes to survive in the challenging world of Hollywood. With such an unrivaled breadth of experience -- from indie to studio films, specs to hired rewrites, film directing to fiction writing -- this is an event you will not want to miss.
Creating a Killer Comedy Premise
Presented by Steve Kaplan
What makes a great comic premise? Why do some work, and some not? More than just a selling tool, or a "high concept" logline, a great comic premise is a useable, practical tool that can help lay the essential foundation for a successful screenplay.

In this unique virtual online workshop, we'll explore principles of creating your own comic premise. The interactive workshop will include examples from classic and contemporary comedies, and tips on developing the initial idea, by focusing on character and theme, into a fully formed narrative.
The Secret to Creating Riveting Drama in any Genre
Presented by Jeff Kitchen
Whether your script is a wacko comedy or a bone-crunching thriller, it has to work dramatically. Trapping your protagonist between two equally painful choices - a Dilemma - amplifies your story's dramatic power. This uniquely effective tool has proven its value in raising a story's stakes, urgency, emotional resonance, tension, and conflict-all of which make any story more compelling. Jeff will demonstrate this in action by building a story from scratch on the spot.

Participants should know the movie Training Day with Denzel Washington.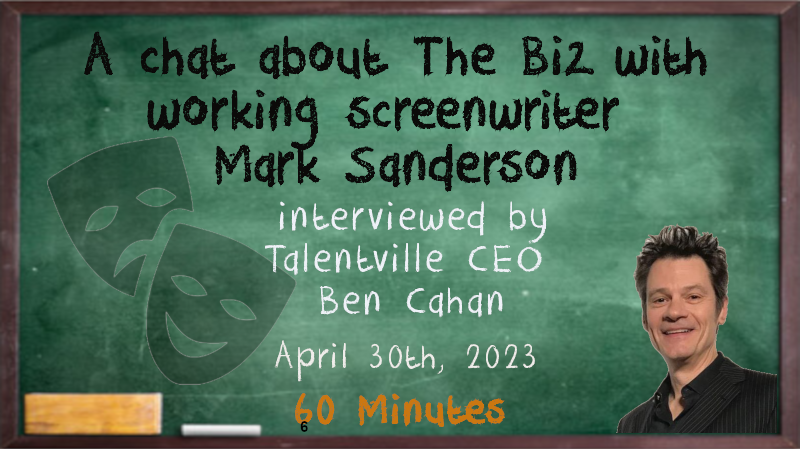 A chat about The Biz with working screenwriter (and author and consultant) Mark Sanderson
Presented by Mark Sanderson
Mark Sanderson is a working screenwriter, script consultant, author, and sometimes actor blessed to be living his childhood dream of writing produced screenplays in genres ranging from family films to thrillers and action. Films he has written have premiered on Lifetime Network, LMN, SyFy, Fox, NBC/Universal, The Movie Network, and others. His twitter feed @scriptcat is widely followed throughout the Industry.

In this 60 minute chat with Talentville CEO Ben Cahan, Mark has agreed to share his personal experience getting in (and staying in) the Entertainment Industry as a screenwriter, will offer his advice on ways new writers can position themselves & their spec screenplays, and give us all a few tips on how to navigate the ups and downs of life as a screenwriter.
What Really Drives A Story (It's Not What You Think)
Presented by Mitchell German
At the time of its release, E.T. The Extra Terrestrial was the highest grossing movie of all time. It solidified Steven Speilberg as one of the all time great and most successful directors. More importantly for screenwriters, it demonstrated a foundational lesson we must learn about creating truly great stories. That every great story is actually TWO stories.

In this webinar, Mitch will explain and how ET demonstrates not only the existence of these two stories but that the Main Character is not indispensable to the story. He will illustrate the difference between what "causes" a story and what "drives" a story, that they're not the same thing. Critical concepts that, once understood, can transform your storytelling and screenwriting potential.